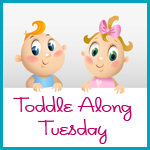 Welcome if you are from Toddle Along Tuesday! Hope you enjoy the blog.
Sorry for the lack of posting lately, we had Jeff's family in town. We have been around a lot of family in the past month. It is a lot to handle when I am just use to the three of us and the occasional family visitor. But we now have a break for a couple of weeks, thankfully.
I haven't really been able to write much about when we went to Table Rock Lake, but I would like to say I consider this my home away from home.
I don't consider Lee's Summit my home anymore, it is just were family lives. But the lake, is my home. I love going there. I was really excited to go on a real boat ride this year. If I didn't have little baby with me I would have laid down on the floor and fallen asleep, like I did so often as a kid. I love the lake because it reminds me of my grandpa, and all the memories of being a kid at his lake house. I love just floating with a life jacket in the lake, it is so relaxing. It is one of the times I feel fully relaxed. I wish I could go there more often but once a year is nice. If I was ever to move back to Missouri, which I think there is probably a 1% chance of that happening, it would have to be to Table Rock Lake. The idea of looking out a window a seeing the lake is wonderful.
Hopefully someday I can live on a lake in Colorado, that would be very nice as well. I think you could consider me a true Lake Rat, and I am hoping little baby will be one as he grows up. The idea of him running on the dock to jump into the water excites me. I hope he takes from me and loves water and the lake, which is the opposite of his daddy. We will have to see.