It is Tuesday, which means it is time for the Toddle Along Tuesday blog hop.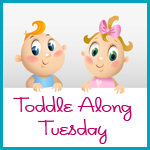 So if you are stopping by, Hi!.
And now on to a very serious subject, football. I live for the fall because that means it is football season, and once the Super Bowl I am already looking forward to August for football to start again (I do look forward to the draft but that only last a weekend in April). So as the NFL lockout kept dragging on I kept getting more and more nervous. What is there was no 2011 NFL season? What would I do on Sundays? I know there would still be college football, but that is on Saturday. I need the whole weekend for football, not just Saturday (or Thursday or Monday, when are they just going to make everyday football?).
So today when it was announced that a deal was reached, I was finally able to relax a bit, knowing there will be a season this fall. Although I don't think it will be a great season, it may be a little weird since training camps are not going to start until this week (eek!), and I am afraid a lot of players are going to be out of the loop and getting hurt. I was really hoping the Chiefs would have an even better season than last year (they made it to the playoffs! and won their division!) but who knows how this season will go now. Hopefully between the Chiefs and Packers, one team will have another great season. And we can only hope this will be Peyton Manning's last season, I mean he is getting old.
Here I am at Monday Night Football last year! It was one of the best games I have attended. I am hoping I will be able to make it to another Chiefs game this year, but we will see. And yes, I can only hope Leo will play football when the time comes, if he doesn't that is fine, but it would be so great if he did!