Toddle Along Tuesday is back!
And now there are set topics for each week. It will be exciting to see what everyone posts each week and how they vary even though they are all about the same topic.
This first week is just a basic introduction.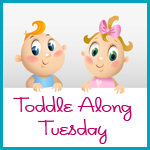 Hello! I am Leland, but most people besides my parents insist on calling me Leo.
Here is momma, wearing me as usual:
And I have two bad kitties:
attention issues
, they are big people lovers and are constantly trying to steal the attention away from me.
And this is daddy, he is the one that thankfully works hard so momma can stay home. And he takes care of me while momma goes to school.
Hope you enjoy reading this blog and the many other great ones that are a part of TAT, thanks for stopping by!