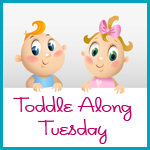 This week's Toddle Along Tuesday topic is: Something you love about your kid(s). Choose one thing, or choose many things! Link up an old post or a new post...whatever you'd like! There are no rules, except that you link up a post rather than your whole blog.
Like all other moms, you can't really say there is only
ONE
thing you love about your kid.
But currently, I am loving all the smiles I get.
Almost every time I look at him I get one. And he tends to think I am pretty funny, so they happen a lot.
It
one
reason he is such a great baby.
P.S. He is starting to throw tantrums, so it is not all smiles and rainbows over here.