Yet another link up!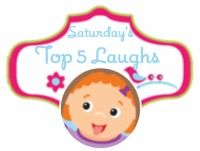 Today I am linking up with Melissa from
The Mommyhood Chronicles
. She always has a top 5 Saturday laugh post and I just never feel I have anything funny enough to post.
But this week I have a video of Leland laughing at me. I was making funny faces at him and he found it hilarious. There isn't much better than baby giggles.